Our software products deliver a high level of integrated management functionality across various areas of your business.
Click on any of the following to find out more:
---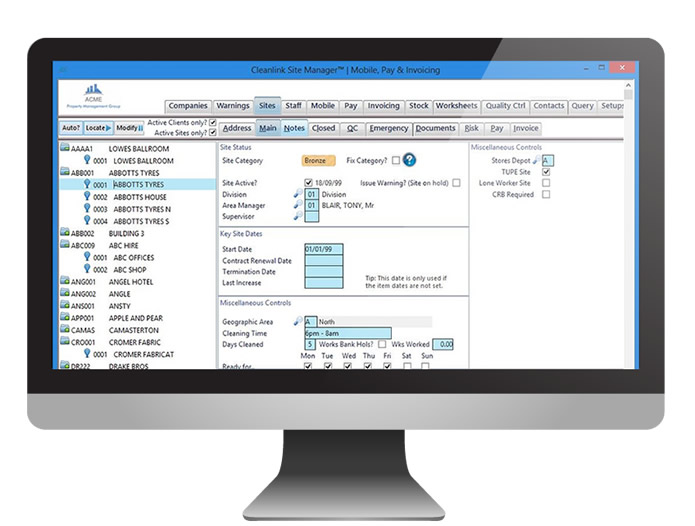 Our products have been designed after many years of practical experience gained from running a contract cleaning business.
Our software is structured to enable companies to efficiently grow and manage their business on a site-by-site basis.

Our products are used by over 100 contract cleaning companies, ranging in size from 50 staff to 10,000 staff.
Latest Press & News
VIEW ALL -
October Payroll Changes

There are a number of important changes to payroll processing occurring during the month of October, which you need to take note of and comply with. If you have any queries with these changes, our Support Team will be very happy to help on 0844 804 2005...

Information from HMRC on the new in-year penalties for late filing of PAYE Submissions

From 6 October 2014, HMRC will introduce in-year penalties for failing to file PAYE submissions on time. You will need to ensure that all submissions due for all of your PAYE schemes are fully up to date by 5 October 2014. Read more here: http://www.hmrc.gov.uk/news/paye-late-pen.pdf...
Case Studies
VIEW ALL -
ServiceMaster Clean (Devon)

ServiceMaster Clean (Devon) was established in 1991 and now cleans nearly 200 sites across the South West region, employing over 160 staff. The team tries to build longstanding relationships with customers, and aspires to an exceptional level of customer service in order to earn their loyalty. Having accurate and up to date information about the bu...

Bulloughs Cleaning Services

Bulloughs are a successful family business that has continued to grow in size over the past 47 years. This steady growth is almost entirely due to recommendations from their base of satisfied clients. The trust placed in them has meant that they are fully committed to ensuring that they get things right for all their...