Our software products deliver a high level of integrated management functionality across various areas of your business.
Click on any of the following to find out more:
---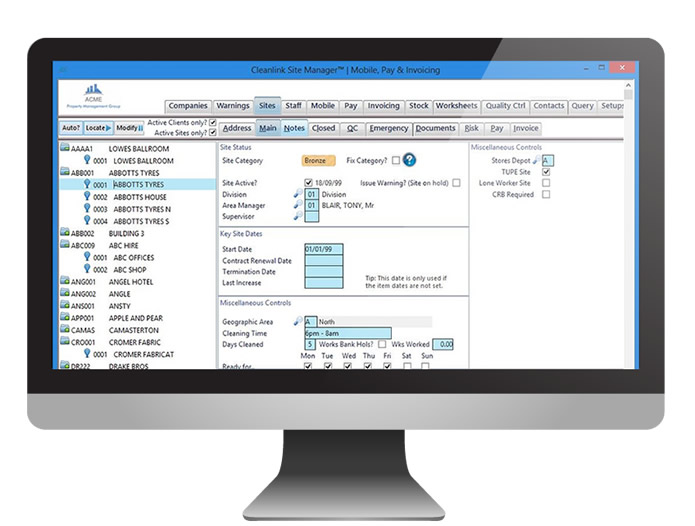 Our products have been designed after many years of practical experience gained from running a contract cleaning business.
Our software is structured to enable companies to efficiently grow and manage their business on a site-by-site basis.

Our products are used by over 100 contract cleaning companies, ranging in size from 50 staff to 10,000 staff.
Latest Press & News
VIEW ALL -
CleanLink Site Master Launches at the Cleaning Show

CleanLink Software Ltd is launching a new web-hosted work scheduling and site auditing application. CleanLink Site Master is designed for companies to quickly set up new clients & contracts, plan and manage their site-based work, and design and use of online forms to capture data...

HMRC Pay Periods

As you are aware HMRC pay periods run from 6th of one month until the 5th of the next. HMRC regulations state that any payments made in this period must be accounted for by 19th of the month. This refers to the date of the payment and not the end of the pay period. Since...
Case Studies
VIEW ALL -
ServiceMaster Clean Lancashire

Cleanlink has been developed continuously over the years and we now have the Cleanlink Portal which allows us to immediately disseminate information regarding sites and employees out to clients and employees. Also, information is readily available on handheld devices whilst on site and is always right up to date with Cleanlink Mobile...

Supacleen

Supacleen are a professional Commercial Cleaning and Specialist Facilities Services provider, based in Cardiff. They have over 30 years of experience in this sector, and their 150 staff deliver the highest standards of cleaning and facilities services to numerous prestigious local organisations, across South Wales. Supacleen tailor make their servi...