Our software products deliver a high level of integrated management functionality across various areas of your business.
Click on any of the following to find out more:
---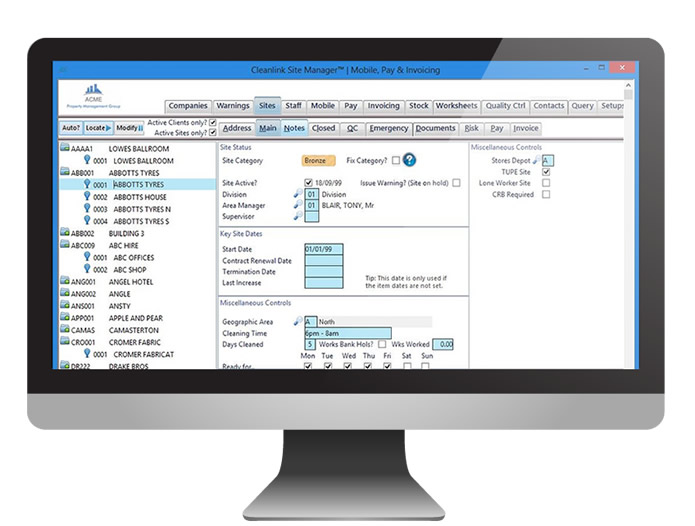 Our products have been designed after many years of practical experience gained from running a contract cleaning business.
Our software is structured to enable companies to efficiently grow and manage their business on a site-by-site basis.

Our products are used by over 100 contract cleaning companies, ranging in size from 50 staff to 10,000 staff.
Latest Press & News
VIEW ALL -
Employee Address Changes on RTI FPS transmissions

A recent communication from HMRC has highlighted a potential problem with RTI FPS transmissions and your employees. Currently, with every FPS submission you send your employees address. HMRC only use this for new starters and then only a part of their matching process. HMRC have now explained how they plan to use this from April 2015 and how you ne...

October Payroll Changes

There are a number of important changes to payroll processing occurring during the month of October, which you need to take note of and comply with. If you have any queries with these changes, our Support Team will be very happy to help on 0844 804 2005...
Case Studies
VIEW ALL -
ServiceMaster Clean Lancashire

Cleanlink has been developed continuously over the years and we now have the Cleanlink Portal which allows us to immediately disseminate information regarding sites and employees out to clients and employees. Also, information is readily available on handheld devices whilst on site and is always right up to date with Cleanlink Mobile...

Supacleen

Supacleen are a professional Commercial Cleaning and Specialist Facilities Services provider, based in Cardiff. They have over 30 years of experience in this sector, and their 150 staff deliver the highest standards of cleaning and facilities services to numerous prestigious local organisations, across South Wales. Supacleen tailor make their servi...