CleanLink's software enables cleaning companies to more effectively manage their businesses. Our Site Manager and Site Master software provide complete control for cleaning company owners and operators. Whether you're processing payroll, invoicing clients, or prioritising shifts, it provides the core functionality you need to deliver your services.
To support site managers, we've created mobile apps that pack in much of the functionality of our desktop apps. Our Apple and Android apps are simple and straightforward, enabling site managers to view, accurately capture and record data whilst on site. 
Put simply, better data means better outcomes for your cleaning business.
We can monitor how subscribers use our software and apps, providing a fascinating insight into the cleaning industry. Over 900 managers use our app and we normally see over 230,000 tasks completed using the CleanLink Mobile App each year. However, the Covid pandemic changed things quite noticably in 2020 and 2021. However, as the pandemic eases, we can now see that activity is increasing as the economy picks up again.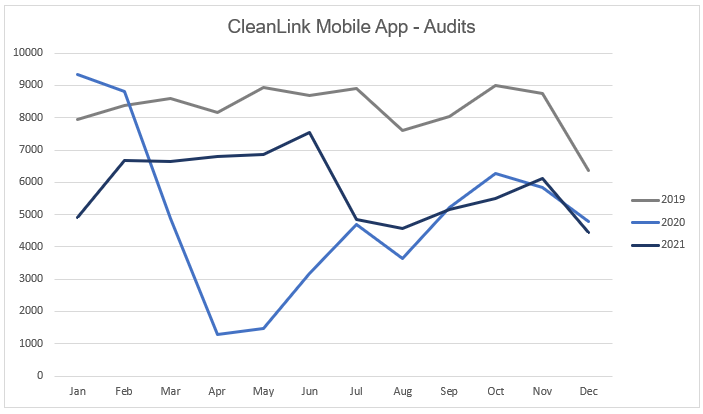 Here are three ways managers used the CleanLink Mobile App in 2020-2021. 
     1.  Auditing is down
During 2020-21, we recorded a 20% drop in the number of customers completing audits on the CleanLink mobile app. 
As offices, shops and other commercial properties were forced to close during the pandemic; we saw a 40% fall in the total number of audits completed in 2020.
We've subsequently seen auditing activity increase, with customers performing 10% more mobile audits. So, it's a positive sign that suggests business is getting back to normal.
     2.  Stock ordering is up (but it's still low)
The CleanLink app supports stock ordering, ensuring on-site supplies don't run out. In 2020, we saw a 29% drop in stock orders as sites closed and cleaning contracts were paused.
While we've seen stock orders increase in 2021, levels are still 25% below pre-pandemic levels. 
However, we expect to see stock ordering increase in 2022 as the economic recovery accelerates.
     3.  Timesheets are on the rise
The number of timesheets submitted in 2021 fell by 17% as the furlough effect was felt. 
In 2021, we saw this bounce back to pre-pandemic levels, demonstrating the increasing demand for cleaning services across the UK. We can already see the growing demand for cleaning staff, and that'll be followed by increases in timesheets soon.
Future focus
We already see signs that the recovery continues into 2022, with increased demand and activity across our software and mobile apps. The Omicron variant threatened to stall progress, but we can be confident that the worst of the pandemic is behind us.
Cleaning companies across the UK are using CleanLink's software to transform their businesses. You can learn more about our award-winning mobile app and our Site Manager & Site Master software here and learn how it can help you improve your productivity and your profit.
Contact Us